ANNOUNCEMENT: Hiram House has begun a Capital Campaign to build a new Pool, Bathhouse and Splash pad. We have partnered with architects from Weber Murphy Fox with a construction goal date for 2020. Please click links for information of how you can help support this project.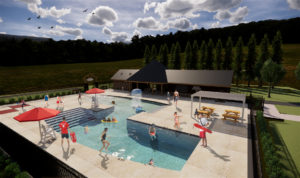 Case for Support for our new Pool: Pool Case for Support
Naming Rights Available: Naming Rights
Pledge Card: Aquatic Center Pledge Card
Hiram House prides itself on its consistent level of excellence and valuable programming. However, decades of use by active children had taken its toll on the facilities. A long-term solution was ultimately needed to meet rising demand of current and future programs to provide campers with the quality facilities they deserve.
A Master Plan was developed to identify several needs for new or renovated facilities for The Hiram House. The Master Plan makes creative use of as much of the property as possible to reduce the density and intensity of development in the core of the site, which was originally designed for single-purpose activity. The redesign enables the site to accommodate several different groups simultaneously. The renovations, alterations and additions are intended to enable Hiram House to fulfill its vision to continue to be a quality overnight and day camp in the summer, and an effective, flexible camp and retreat center to serve all ages year round.
Recommendations in the Master Plan and the camp's current limitations prompted the Board of Trustees to commence a multiyear capital campaign. The purpose of the campaign is to provide funds to renovate the existing structures and to build new facilities. The Hiram House Board of Trustees has set a multi-million dollar goal to meet these needs. However, facilities most critical to the immediate future of the camp are being funded first and will be completed in phases.
Refurbished Taylor Hall
Restoration of Pioneer Circle
Double R Ranch Equestrian Center
3 Residential Log Cabins
Alpine Climbing Wall
Basketball Court
Climbing Tower
Butterfly Garden
High & Low Ropes Course
Farmstead Barn
Reading Cabin
New Dining Hall
Dining Center – The new dining center is a priority facility, in the hub of the central campus, with capacity to serve 350 campers and staff. To include a main dining hall that can be divided for smaller groups, staff dining room, restrooms that will also serve the commons, pack out room, new kitchen facility, fireplace and a large patio gathering area in front. To serve as both the anchor to the new Pioneer Circle and as the focal point for arriving guests. Center will be constructed primarily of logs to continue theme established by the log cabins. Exterior space will connect to the pond below the dining center for beauty, water studies and outdoor activities.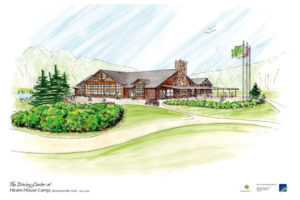 Activity Center
Additional renovation of the existing dining hall to convert it to a multi-purpose program and activity center, incorporating an interactive science and environmental learning center, a central assembly hall, classrooms for programming, self-service kitchen area for groups, program offices, staff lounge, and an arts, music and drama center.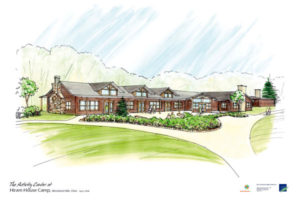 Other planned updates to specialized program facilities and support areas include the caboose/train station, archery range, firehouse, chapel and teepee and ranch village outposts for older campers and specialty groups.
If you would like to donate to Hiram House Campaign, please click here to use our online donations form or mail contributions to:
The Hiram House, 33775 Hiram Trail, Chagrin Falls, Ohio 44022
For more information about Hiram House Campaign or Hiram House Camp, contact:
Executive Director Courtney Guzy, at (216) 831-5045
Or, email us at info@hiramhousecamp.org
D
o
n
a
t
e
!
Since 1896 Hiram House has been committed to helping the youth from our local communities. We never waver from our mission to open new horizons for children of all backgrounds. Youth can discover the joys and beauty of nature through camping and develop vital physical, mental, emotional, and social skills. They build character and create great memories that will last them a lifetime.