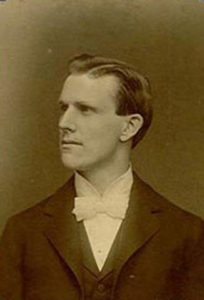 The Hiram House was established as Ohio's first "Settlement House" and among the first in the nation, founded in Summer of 1896 in Cleveland's Whiskey Island neighborhood.
Founded by Hiram College divinity graduate George A. Bellamy, it sought to address the needs of Cleveland's then burgeoning immigrant and poverty stricken slum dwellers, administering a wide range of services to people of many different ethnic, racial and economic backgrounds.
Representing the ideals of the late 1800s urban progressive movement, settlement houses provided, through "service, not charity", health recreational, and self-development opportunities that were not widely available in this era. An outgrowth of Bellamy's mission was the establishment of a "Fresh Air Camp" for tenement-bound families, and especially, for their children. Beginning in the summer of 1896, the first Summer Camps were held at local farms and fairgrounds. By the early 1900s, Hiram House had opened a permanent site for the Camp at its present location and started its highly-respected camping and outdoor education program.
Eventually, this site became the organization's sole home. In continuous operation since its founding, Hiram House has provided enriching outdoor experiences and educational programs for thousands of Ohio children for over 100 years.
Today, The Hiram House continues to follow George Bellamy's vision and mission of providing a healthy and safe outdoor experience for children, designed to meet the needs and challenges of the 21st century.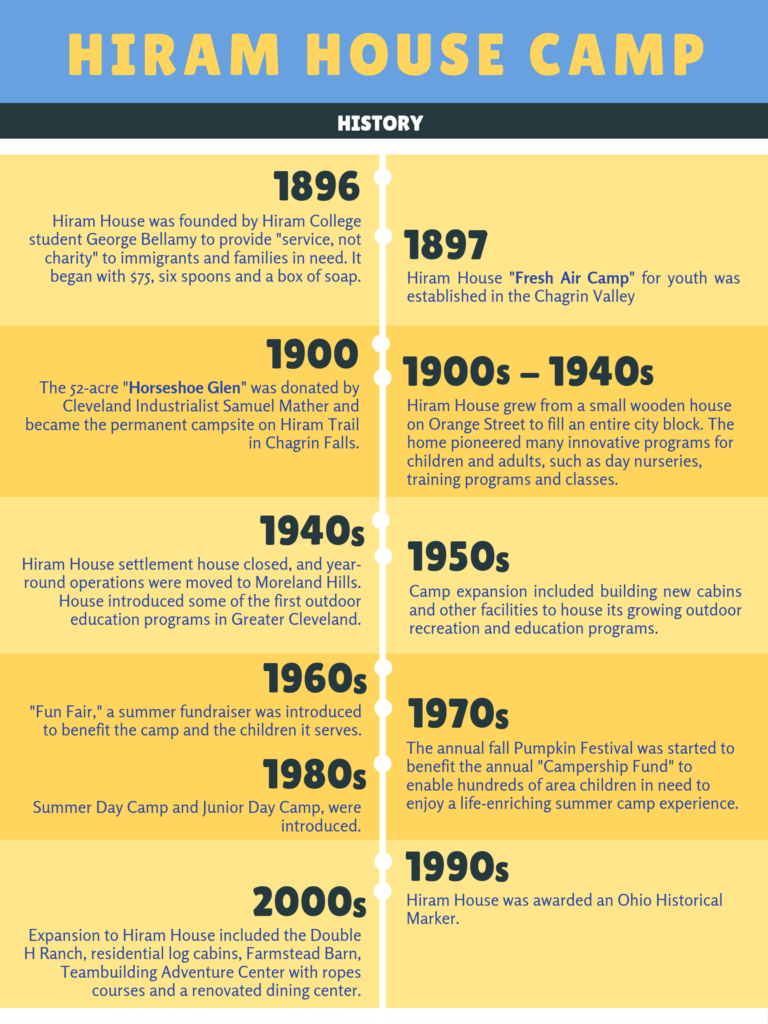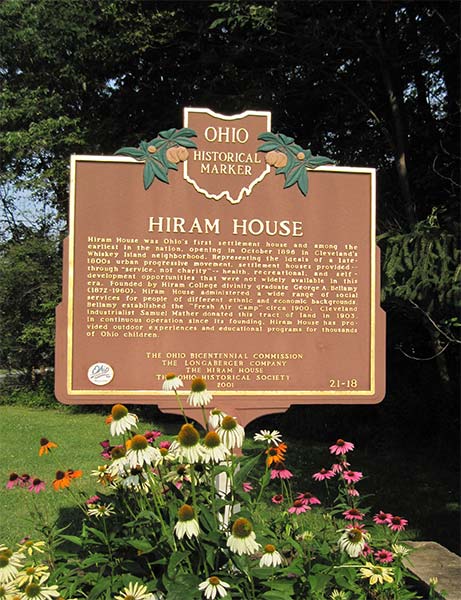 Hiram House Historical Marker Ohio Bicentennial
Hiram House Camp is the oldest camp in Ohio and one of the first camps in the United States, founded in 1896. For over a century it has been in continuous operation, enriching the lives of generations of children through camping. A nonprofit organization, its mission is to open new horizons for youth, build character and promote family for children of all backgrounds.
Hiram House was recognized for our long legacy of service with an Ohio Historical Bicentennial Marker. Open year-round, it serves thousands of children annually through a variety of Outdoor Education & Recreation programs & facilities.