It's More Than a Great Job;
It's a Great Experience!
A summer at HHC is like no other! Where else do you get to spend your days laughing, singing, smiling, and making a difference? It's definitely a fun job, however it is challenging.
It's definitely a fun job, however it is challenging. You must love children and want to spend your summer with them. Our staff is expected to work long hours and at the same time be caring, nurturing, excited, enthusiastic, dedicated, flexible, patient, happy and smiling! Remember, you're here for the kids. Their well being, safety and happiness are our first priority. Believe us when we say, there are many benefits from the hard work, commitment to the campers and dedication to the job!
The Hiram House Camp (HHC) Staff is recruited from colleges and universities throughout the country and abroad, representing nearly 40 institutes over the years. Overnight Camp staff must have completed their first year of college while Summer Day Camp and Junior Day Camp staff must have graduated from high school.
Summer Camp Job Opportunities
An accredited member of the American Camp Association, The Hiram House is a private non-profit, non-denominational, coeducational, interracial and intercultural facility located 15 miles southeast of downtown Cleveland on 172 acres of beautiful woodland in the community of Moreland Hills.
Overnight Camp has been the core of the Hiram House mission since it began in 1896, opening new horizons and welcoming youth of all backgrounds. It serves hundreds of children each summer. Many of these children are from urban areas in Cuyahoga and surrounding counties in Northeast Ohio, and a majority are eligible to receive some form of financial assistance for families in need through our annual Campership Fund to enable them to attend a life-enriching stay at summer camp. Camp sessions are six-days long. Campers ages 6-9 and female campers ages 10-14 live in log cabins centrally located to all camp facilities, while male campers ages 10-14 live in platform tents in the woods. Staff members live with and closely supervise campers throughout each session. Overnight Camp staff stay on camp grounds at all times, except for pre-arranged time-off, and abide by curfew. All meals are provided, as is laundry service.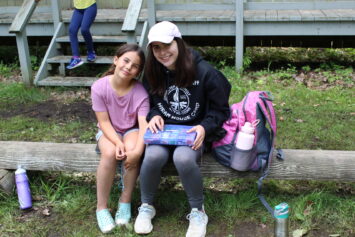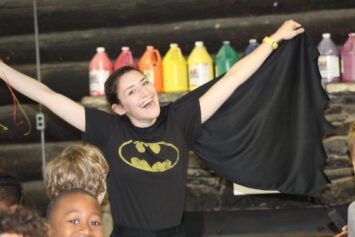 Day Camp is a vital part of our camping program and gives children an excellent opportunity to enjoy many aspects of outdoor recreation and gain lifelong skills. Comprised of children ages 6-12 from the surrounding communities in the Chagrin Valley area and in and around Northeast Ohio, the program runs Monday through Friday, from 9 a.m. to 4 p.m. Every session the children can participate in a pre-scheduled overnight stay at camp so they can experience the satisfaction of rustic outdoor living.
Junior Day Camp is our youngest summer program, serving 5 and 6 years olds from the surrounding communities in the Chagrin Valley area and in and around Northeast Ohio. Junior Day Camp is a closely supervised program to give children a safe and secure environment in which to be introduced to the joys and benefits of camping and to expand their horizons. It runs Monday through Friday, 9 a.m. to 4 p.m.
Leadership Staff (Directors, Unit Leaders & Specialists): June 5th – June 6th
All Staff Members: June 6th – June 9th
All staff must attend Pre-Camp Training; Pre-Camp Training dates subject to change. Staff will be spending the entire week at camp, includes sleeping in the cabins in the evenings.
Summer Overnight Camp: June 18th – July 21st (5 weeks)
Summer Day & Jr. Day Camp: June 12th – August 11th (9 weeks)
Overnight Camp: Boys and girls ages 6 – 14 from across Northeast Ohio
Day Camp: Boys and girls ages 6 – 12 from Greater Cleveland's eastern suburbs
Junior Day Camp: Boys and girls ages 5 and 6 from Greater Cleveland's eastern suburbs
Location and Contact Information
Konner Lashley, Camp Program Director
The Hiram House
33775 Hiram Trail
Moreland Hills, Ohio 44022
Phone: (216)831-5045
Fax: (216) 831-2477
Email: klashley@hiramhousecamp.org