Help make a difference!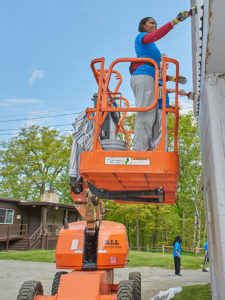 Hiram House is fortunate to have the support of thousands of individuals, businesses and organizations across Northeast Ohio who volunteer their resources, time and talents to benefit the camp and the children it serves.
Volunteer opportunities are available for special events, like the annual Pumpkin Festival, and helping the camp throughout the year with grounds and facilities improvements and more.
Sponsorship opportunities for Special Events, like the Pumpkin Festival, are also available for business, organizations or individuals. The Pumpkin Festival benefits our Campership Fund to enable children in need to attend a life-enriching summer camp experience.
If your company or business would like to volunteer for a day of service at Hiram House, we would be happy to talk with you about our projects and opportunities. Please contact the camp office for more details at (216) 831-5045 or email info@hiramhousecamp.org.
D
o
n
a
t
e
!
Since 1896 Hiram House has been committed to helping the youth from our local communities. We never waver from our mission to open new horizons for children of all backgrounds. Youth can discover the joys and beauty of nature through camping and develop vital physical, mental, emotional, and social skills. They build character and create great memories that will last them a lifetime.